A restaurant
Bistronomic and Authentic
Located in Aiguèze close to the Ardèche river, restaurant Le Bouchon welcomes you to enjoy authentic and tasty dishes.

Come share a moment with family or friends in one of the most beautiful villages in France. Completely renovated to give it a new lease of life, the restaurant offers bistronomy in a friendly setting.

Our famous marinated beef... on the menu since the restaurant's opening day in 2009. Delighting the taste buds of our customers: Salers rump steak beef cuts with pear juice, sesame oil, soy sauce and a touch of garlic.

Our chef's seafood tajine is one of our most popular dishes. Fresh and regional products boost the pleasure and creativity of our culinary team.
Discover the menu
Quality suppliers
In the permanent search for a quality
of service and restoration
5 years ago, our restaurant obtained the Qualité Tourisme Occitanie Sud de France label. We have joined the quality professionals of our region. 200 criteria were assessed within the establishment.

Our objective has always been the same since our opening: to provide our customers with the best experience, to challenge ourselves constantly to maintain our level of quality and service.

Led by the Occitanie Region, the label relies on the Regional Committee for Tourism and Leisure of Occitanie which accompanies us throughout our labeling. Our suppliers are carefully selected and share our values: a local distribution network, and fresh and regional products are the essential first step to quality dishes.

Located within a 100 km radius of Aiguèze, we work with quality and reliable partners:

Dame Tartine in Saint Julien de Peyrolas provides us with homemade jams, each more delicious than the other... Jams based on authentic flavours and delicious tastes evoking our childhood to accompany our dishes.

Our vegetables, meat and fish come respectively from Domaine de Chantemerle in Pont-Saint-Esprit, La Cisionnière in Saint-Paulet-de Caisson and Provence Maree in Avignon.

And let's not forget Pain d'autrefois in Saint-Paulet-de-Caisson and Valrhona chocolates...

So many regional suppliers in short circuit that allow us to create authentic and bistronomic dishes.
A world of wine
Close to the vineyards Privileged partner of restaurant le Bouchon
To accompany each of your dishes, our wine cellar contains the most exquisite bottles from regional winemakers but that's not all... The restaurant offers you some of the finest wines from the best French vineyards. From Châteauneuf du Pape, to white Côtes du Rhône wines to Champagne Gobillard...

Passionate about wine and owners of a wine estate, Sébastien Ventajol and Gilles Barrot have always been involved in the world of winemaking and love to help people discover the best of French wines.

The restaurant Le Bouchon has a strong link with the Ventajol wine estate. The estate, located in Pont-Saint-Esprit, is owned by Sébastien Ventajol. it supplies the restaurant with quality wines produced in the best wine-making tradition.

The aim is to push Le Bouchon even further by creating quality moments filled with regional products.
Our history
Since 2009
Partners on the handball courts for over 20 years, starting the restaurant Le Bouchon was an obvious choice for Gilles and Sébastien.
Both winemakers, they decided to create their winery in a booming tourist village: Aiguèze. The winery was created in 2007, with the restaurant following two years later.

Why Le Bouchon?
Inspired by their original trade and the Bouchons Lyonnais restaurants, this name reflects their desire for a culinary tradition with fresh and quality products. The curtain made with wine corks in their winery also was a defining factor in choosing this name.

The restaurant opened its doors in 2009, with Gilles, Sébastien and a chef to start out. For the past 11 years, the two partners have never stopped working on the restaurant:

- They created a patio, a pergola and a wine cellar in the restaurant itself.
- They added an extension to the restaurant in 2020, the year of change, to match their desires and ideas.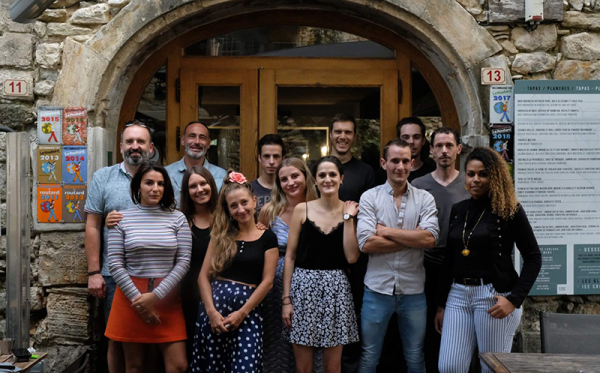 Restaurant professionals
A team composed of eclectic personalities and talents are here to serve you and delight your taste buds.
Each of our 16 members turn cooking into an art of living, the team is the heart of our restaurant.

We are proud to train and pass on our skills to new recruits, as a way to develop our passion.
For the past 3 years, our chef from Brittany has been infusing each dish with his know-how, acquired in many Michelin-starred restaurants. He adds his personal touch to each of his dishes while respecting the values of Le Bouchon. His favourite ingredient: fish!

Le Bouchon's light and airy desserts are conceived, created and tested by our pastry chef. Also benefitting from training in great Michelin-starred restaurants, she brings a touch of lightness and an explosion of flavour to the end of your meal.